It is vital to take the time to learn about Siem Reap's rich culture and traditions if you are visiting the region and searching for Things to do in Siem Reap and Siem Reap Attractions. With a more than 2,000-year-old history, Cambodia has a distinct cultural identity that has been shaped by the country's various ethnic groups, religions, and historical influences.
Contents
Where to Start Your Siem Reap Culture Journey?
If you are wondering, "Where should I start learning about the rich culture of Siem Reap?", here are some pointers to get you started:
Going to the Angkor National Museum is among the greatest ways to get started learning about Cambodian culture. Through multimedia exhibitions and interactive displays, you may fully immerse yourself in the history and mythology of the Angkor Period at this location. You will gain knowledge about the history of the ancient Khmer kingdom, the building of the Angkor temples, and the way of life of those who lived throughout this prehistoric era.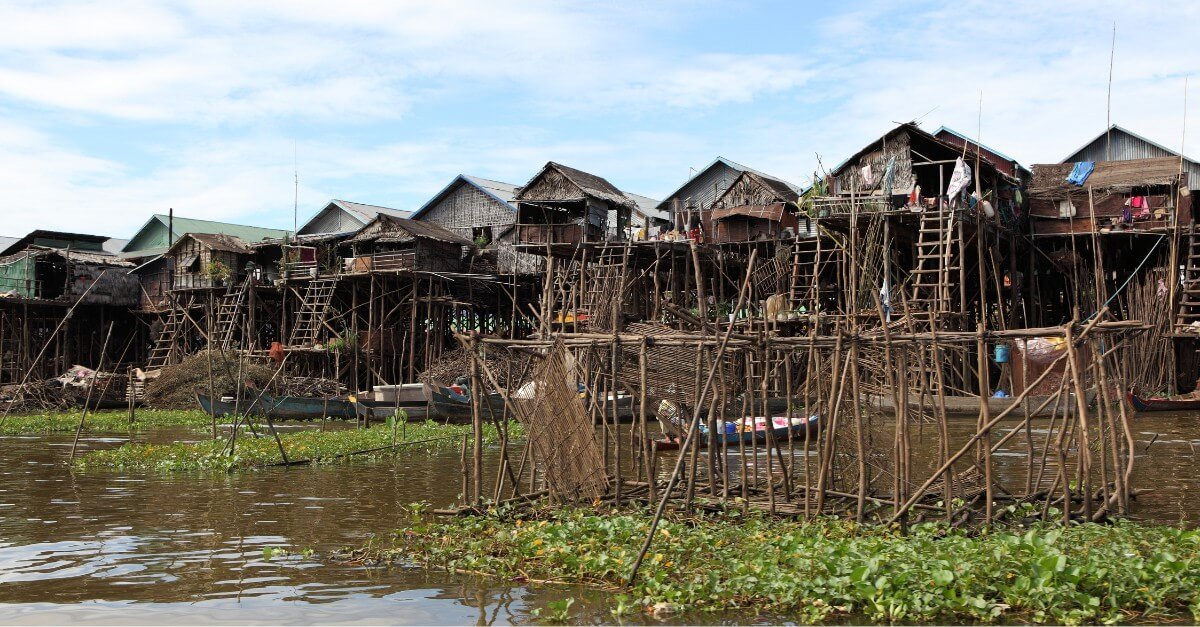 The Cambodian Cultural Village, which displays the traditions and customs of the country's numerous ethnic groups, is another must-see sight. This living museum gives a fascinating look into the cultural richness of Cambodia, with everything from dance performances and traditional music to handicraft exhibitions and village recreations.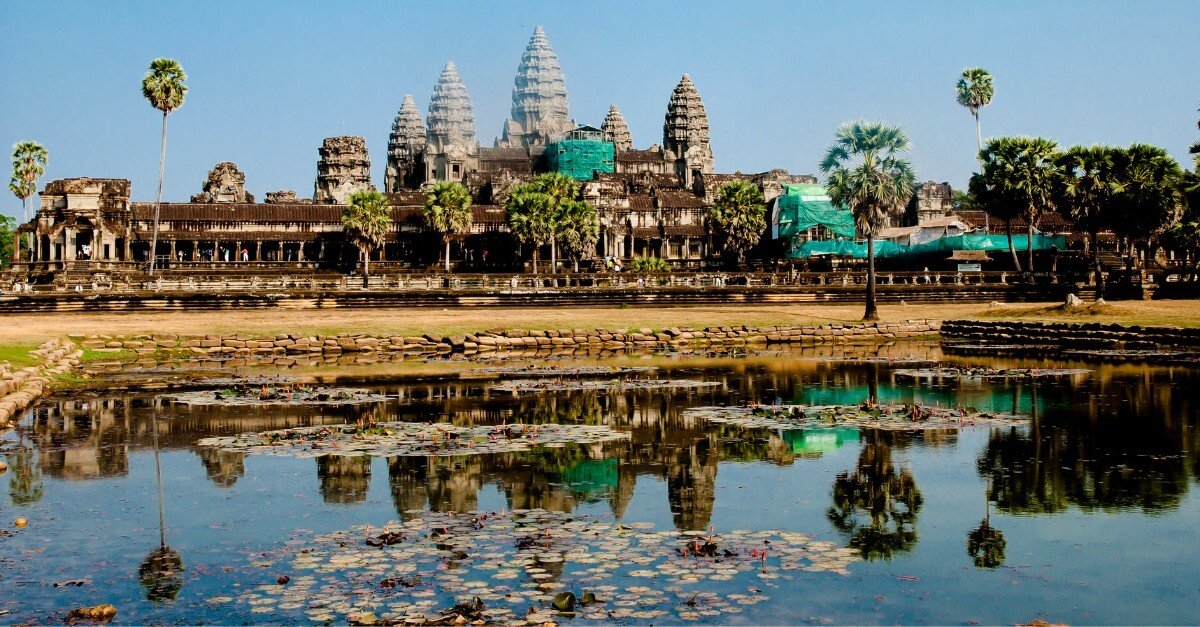 We strongly advise taking a guided tour of Siem Reap's historical monuments and landmarks to obtain a deeper understanding of Cambodia's history and culture. You'll learn things that you might not learn from books or the internet when you have an experienced guide at your side.
Additionally, you may not expect that the food of Cambodia is an essential aspect of the nation's cultural legacy, and should also not be missed on the list of things to do in Siem Reap. Cambodia's food is an authentic representation of its rich cultural past, from the savoury and sweet delights of Khmer sweets to the fragrant spices and tastes of Amok curry.
Exploring the Temples of Angkor: A Cultural Journey
As mentioned above, the Angkor temples are a must-see site for anybody travelling to Siem Reap. In addition to being amazing works of engineering and design, these ancient ruins offer a glimpse into Cambodia's vibrant past and culture. In fact, touring the Angkorian temples may be a cultural excursion in and of itself.
Plan ahead to be prepared and get the most out of your trips to the temple. Prioritising the temples that interest you the most and designing your schedule accordingly is one of our top recommendations when deciding on things to do in Siem Reap. There are over a thousand additional temples in the area to choose from, with Angkor Wat, Bayon, Ta Prohm, and Preah Khan being the most well-known.
Another tip is to hire a knowledgeable guide who can share insights about the temples' history, symbolism, and significance. This will help you appreciate the temples on a deeper level and provide context for the carvings, statues, and architecture.
One thing to keep in mind is that many of the temples require modest clothing to be worn. This means covering your shoulders and knees and avoiding revealing or tight-fitting clothing. It is also important to be respectful of the temples and avoid climbing on or touching the ancient structures.
If you are looking for a luxury hotel near Angkor Wat to rest after an extensive cultural journey, we highly recommend the Park Hyatt, a 5-star hotel in Siem Reap.
Celebrating Festivals and Events
Attending one of the many festivals or events in Siem Reap is a necessity if you wish for a genuinely authentic cultural experience there. The rich cultural legacy of Cambodia is honoured throughout the year via a wide variety of festivals and events.
One of Siem Reap's most recognised celebrations. It generally starts in the middle of April and lasts for three days. The city comes alive at this time with vivacious street parties, age-old dance performances, and eye-catching parades. It is a wonderful chance to take in the best of Cambodian culture.
Bon Om Touk (Water Celebration)
Translating roughly to "water celebration," this festival commemorates the end of the rainy season and the Tonle Sap River's flow being reversed. There are boat races, live music performances, and fireworks displays throughout the three-day celebration in November. Pub Street Siem Reap is often at the centre of the action of the festivities.
The Vesak Day honours the birth, enlightenment, and passing of Buddha, and is a major occasion for individuals who are interested in Buddhism. With vibrant processions and offerings to the monks, it is a day of introspection and meditation as well as joy and celebration.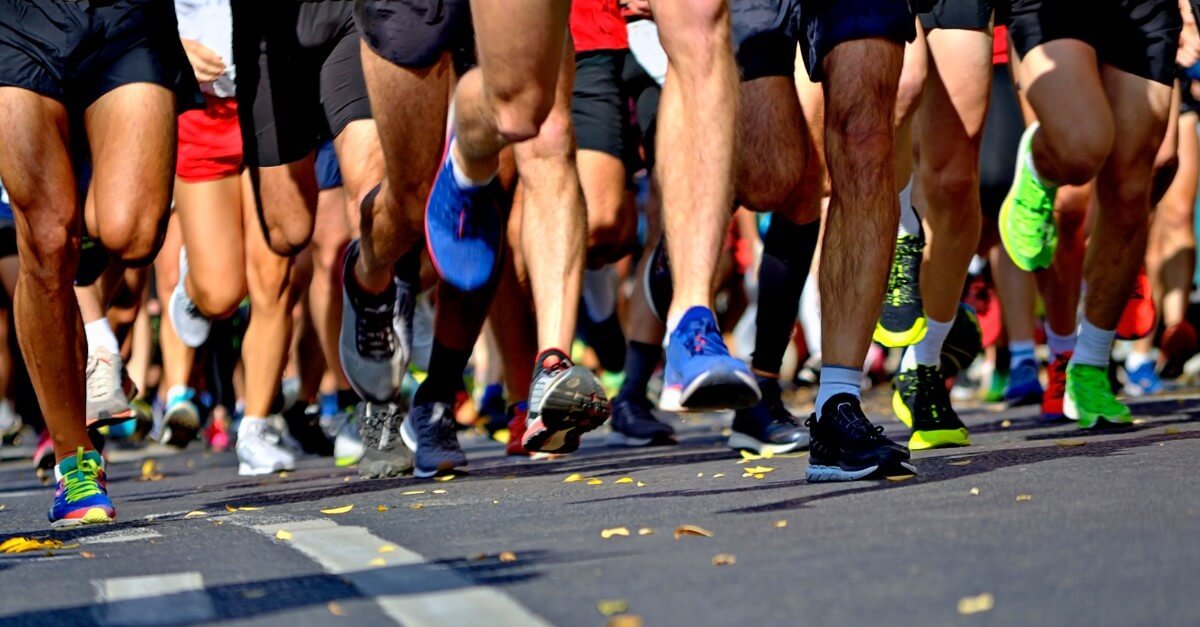 The famous Angkor Empire Marathon is held annually in December, and it is a unique way to explore the temples while getting in a good workout. The race takes runners through the stunning Angkor Archaeological Park, and participants can choose to run a full or half marathon or a 10 kilometres race.
Sustainable Tourism in Siem Reap: Preserving Cambodia's Culture for Future Generations
As tourists, it is our duty to preserve the places we visit and make a difference in the local communities we come across. In Siem Reap, a city steeped in culture and history, this is particularly true. Therefore, it is crucial to think about sustainable ways to protect Cambodia's cultural legacy for future generations as tourism continues to expand in the area.
Selecting reputable tour operators and lodging is one method to promote sustainable tourism in Siem Reap. Look for businesses that place a high priority on environmental preservation and community involvement. By doing this, you can make sure that the money you spend on tourism supports environmental preservation and regional economic growth.
Another way to support sustainability in Siem Reap is by respecting the local culture and traditions. Be mindful of appropriate dress codes when visiting religious sites, and ask for permission before taking photos of locals. Engage in cultural activities and support local artisans by purchasing handmade souvenirs instead of mass-produced items.
Volunteering with regional groups that prioritize environmental preservation and community development is another way to promote sustainable tourism. This is a wonderful opportunity to support the local community while learning more about the customs and way of life there.
There are many fantastic places to visit and things to do in Siem Reap. By practising sustainable tourism in Cambodia, we can help preserve the region's rich cultural heritage for generations to come.
Our Top Picks for a Memorable Things to do in Siem Reap
1.Discover the Magnificence of Angkor Wat
Let's start with the pinnacle of them all: Angkor Wat. If you are a history buff, an architecture enthusiast, or just someone who appreciates spectacular beauty, then this UNESCO World Heritage Site is an absolute must-visit. You will undoubtedly feel completely awestruck when you first lay eyes on this magnificent temple complex.
Built in the 12th century by the Khmer King Suryavarman II, Angkor Wat is a stunning example of ancient Khmer architecture. As you explore the temple's intricate carvings, you will feel as if you are walking through a living history book. We highly recommend getting up in the early morning and arriving at the temple before sunrise, so you can witness the sun rising over the temple's iconic spires.
Additionally, you should be aware that Angkor Wat is a popular tourist site; therefore, you can expect crowds. Still, do not let it stop you from going. You may still take in the magnificence and beauty of the temple with a little bit of patience. And if you wish to understand more about Angkor Wat's past, we suggest hiring a professional local guide who can provide enlightening details and tales about the temple.
On top of that, if you wish to get to the temple before every else, we suggest staying at Park Hyatt, a luxury hotel near Angkor Wat.
2.Get a Glimpse of Local Life at the Old Market
You should certainly head for the Old Market, also known as Phsar Chas, if you want to immerse yourself in the community and experience real Cambodian life.
The centre of Siem Reap is home to this lively market, which is a hive of activity from dawn till night. There are many varieties of locally produced goods available here, including stunning fabrics, fresh fruit, and handcrafted crafts.
However, the Old Market offers more than simply a place to buy; it is also a chance to meet the welcoming locals and get a glimpse into their way of life. Your taste buds will thank you for sampling some of the delectable street cuisine on offer, including the renowned fish amok and the cool sugar cane juice. Additionally, if you are feeling especially daring, try some of the strange fruits you have never heard of; we assure you, it will be worthwhile!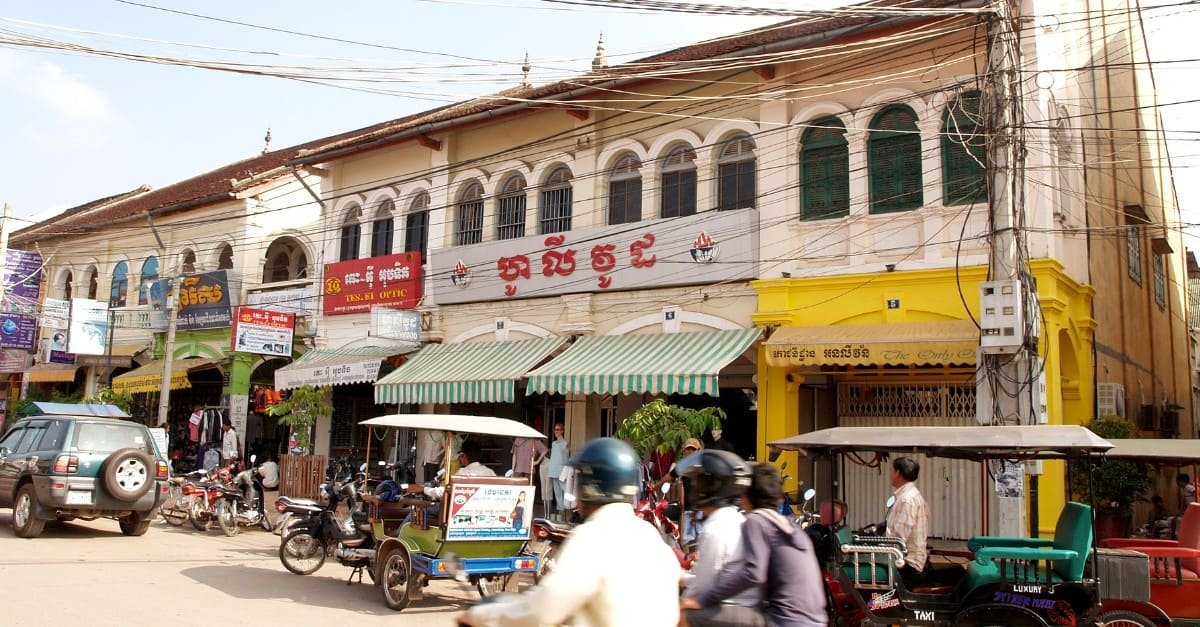 The Old Market's bustling atmosphere, though, could be what you enjoy best. Vendors shout out their products and haggle with buyers in this kaleidoscope of sights, sounds, and scents. It is tough to resist getting sucked into the excitement because of the contagious energy. The Old Market in Siem Reap is the place to go whether you are searching for trinkets, a good lunch, or just a glimpse into local life.
3.Experience the Thrill of Ziplining at Angkor Archaeological Park
Ziplining over the jungle canopy at Angkor Archaeological Park may turn out to be one of the most exhilarating experiences of your life. It is an activity that combines adventure and sightseeing, offering a unique perspective of the stunning temples and lush greenery from above.
If you feel a little anxious or uneasy, the knowledgeable guides will quickly calm you down and supply all the required safety gear. Whether you are a novice or an experienced zipliner, you will have a blast since the course is made to accommodate all skill levels.
Experience a surge of excitement and an incredible sensation of freedom as you soar into the air. The vistas are amazing, and it is an exhilarating way to explore the area. With this special vantage point, you will be able to see the finely carved temples and the surrounding forest in a way that you otherwise would not have been able to.
In addition to the zipline experience, there is a brief journey into the rainforest, where you may discover the park's flora and species. The guides do a fantastic job of making the trip both instructive and enjoyable. They are informed and eager.
We highly recommend ziplining in Angkor Archaeological Park if you are looking for an activity that will make your heart race. It is a one-of-a-kind and amazing event that will undoubtedly rank as the high point of your visit to Siem Reap.
4.Relax and Unwind at the Prasat Chrung Temple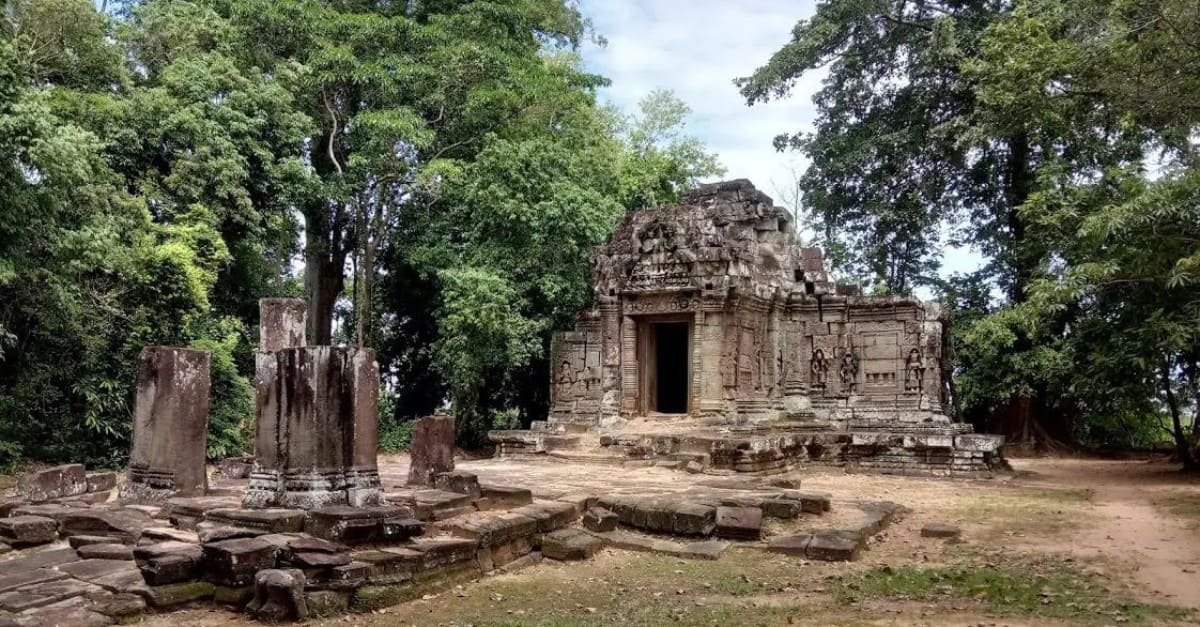 The Prasat Chrung Temple is the ideal getaway from Siem Reap's busy streets if you want to unwind. This is an excellent place to visit in Siem Reap for couples since it is the perfect getaway for those looking for peace and quiet; it is perched on a hilltop.
You will be impressed by how peaceful it seems when you enter the temple. The atmosphere was wonderfully tranquil because of the temple's gorgeous architecture, rich gardens, and expansive views of the surrounding countryside.
To complement the moment, the temple has a meditation area. Set apart from the rest of the complex, the meditation area is a quiet space that allows a disconnect from the outside world, where you can sit in silence, meditate, and reflect. Another highlight of the temple is the small pond filled with koi fish. Watching the colourful fish swim around is surprisingly therapeutic and will allow you to fully embrace the calmness of the environment.
Best Things to do in Siem Reap with Family
5.Tonlé Sap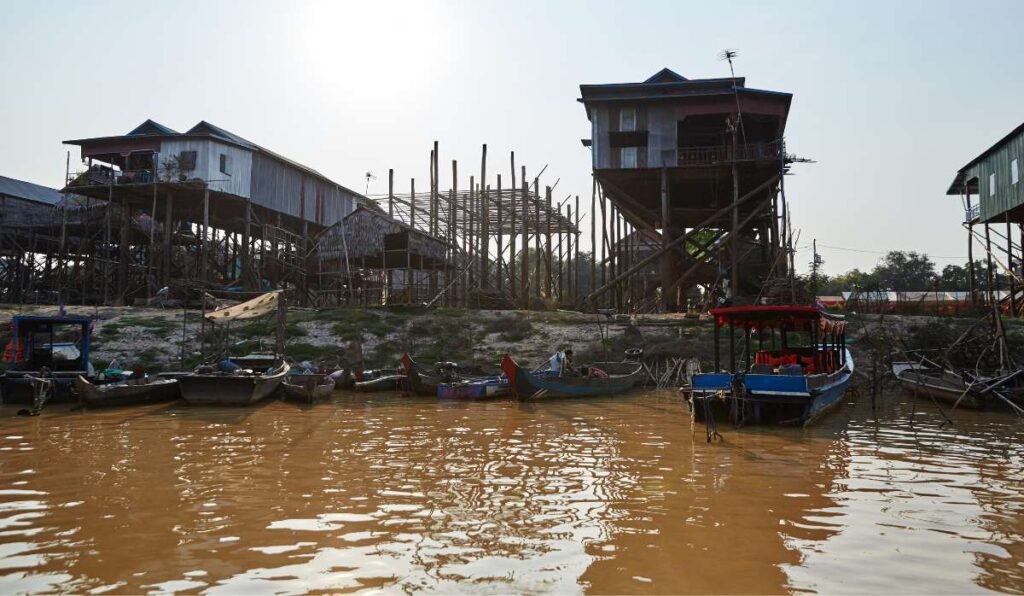 One of the most significant areas to the locals is the 'Tonlé Sap' lake. As one of the planet's most diverse and productive ecosystems, the lake is critical to the country's food supply. This great lake on a sedimentary flood plain served as a source of water and sustenance to the city of Angkor and now continues to support many small communities where people live on stilts amongst the forest area and the banks of the river.
Today, the lake is a popular tourist destination, and it is one of the best Siem Reap attractions with family. Tonlé Sap draws countless tourists each year to explore its remarkable floating villages of Kampong Phluk, Kompong Khleang, Chong Kneas, and Mechrey. Their native lives are brought to life through demonstrations of fishing activities, rowing boat trading, and its distinctive method of making a livelihood on the water.
6.Angkor National Museum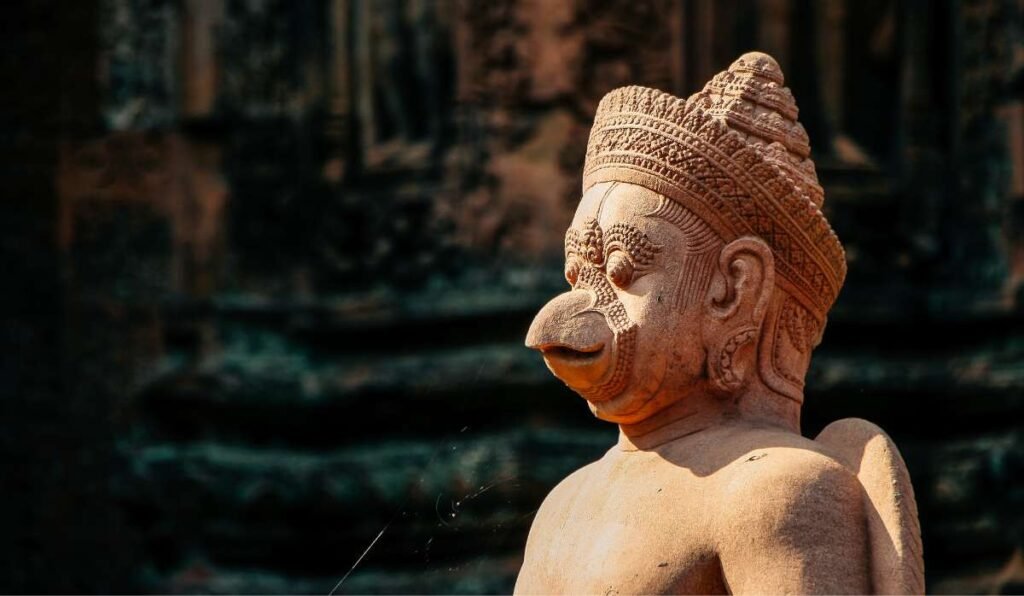 When it comes to Angkor Archaeological Park, the ultimate experience of visiting the park itself is a must-do as one of the top Siem Reap attractions.
Nonetheless, comprehensive information about the Khmer empire's various wonders is rather scarce at the ruins themselves. That is why a visit to this insightful, privately run museum is essential for visitors interested in Khmer architecture and the legendary story of Angkor. The displays themselves are not especially spectacular; in fact, the selection has been chastised for being aesthetically attractive but lacking in authentic Angkorian symbolic importance. On the other hand, the presentation is first-rate, and it is one of the few places in Cambodia that provides travellers with a basic knowledge of the historical background and heritage of this once-mighty empire.
7.Siem Reap River
The Siem Reap River flows along the periphery of Siem Reap's main hub and is a charming place to wander along in the early evening. Which is one of the Best Things to do in Siem Reap with Family.
One of the Siem Reap attractions that is looking to make a difference is the Made in Cambodia Market, located along the river, which is open every day from 12:00 to 18:00, and vendors sell arts and crafts produced by local Cambodian craftsmen. It has a more relaxed atmosphere than the central Siem Reap night markets, a handful of bars, and street food sellers. The main goal of the Made in Cambodia Market is to support the local economy by providing jobs for the people in the village who make handmade items and for the vendors who communicate with tourists.
8.Wat Preah Prom Rath
Wat Preah Prom Rath is a 12th-century Buddhist temple in Siem Reap with magnificent premises. People visiting will appreciate the elegant pagodas, colourful wall paintings, a giant sleeping Buddha, and peaceful areas where it is possible to get away from the bustling and liveliness of Siem Reap. In addition, this is a functioning temple, so you may come across Buddhist monks inside the temple making daily offerings and praying.
9.Phare Cambodian Circus
You and your family might be searching for one of the Siem Reap attractions that offer something a little different after a day of wandering from one temple to another. The Phare Cambodian Circus is a popular evening activity in Siem Reap. It presents a one-hour performance that combines traditional and modern theatre, acrobatics, live performances, and comedy.
This music, theatre, and dance entertainment venture is not simply a circus. Since its inception in 2013, it has grown to become one of Cambodia's largest and most important social enterprise concepts for community development.
10.Cambodian cooking classes
Without a doubt, Asian food is delectable and has great diversity, and Khmer cuisine is no different. It is no wonder, therefore, that cooking classes are some of the most popular Siem Reap attractions/activities to do.
In these classes, you will learn how to prepare some of the most loved Khmer dishes with a local chef. You can then take home and recreate the dishes back in your country, which will surely dazzle your family and friends!
Best Siem Reap Attractions Worth Exploring
Siem Reap is rapidly gaining recognition as one of Asia's most affordable destinations. With a multitude of places to explore, things to do, delicious foods to savour, and souvenirs to purchase, many prioritise fun over budget-saving. Nevertheless, taking a moment to save a bit of money while getting the most out of Siem Reap Attractions can be a wise approach.
1.Tour the Local Markets
Despite being on a budget, the bustling market scene is a place to visit in Siem Reap and is a strongly recommended experience for all travellers. The local markets offer a chance to immerse yourself in the hustle and bustle of the local crowd, observing and navigating the excitement as they carry out their routine shopping.
The most prominent market is the 'Psar Chas,' also known as Siem Reap Old Market. It presents an array of distinctive shopping opportunities at friendly prices, including traditional Khmer food, silk, textiles, spices, jewellery, and traditional crafts. Furthermore, you can venture to 'Phsar Leu,' or the Upper Market, the largest and most captivating of Siem Reap's markets, yet with fewer tourists. Not to mention the Angkor Night Market, Siem Reap's most renowned shopping venue, housing over 200 vendors selling a wide range of clothing and handicrafts by the locals.
2.Unwind at West Baray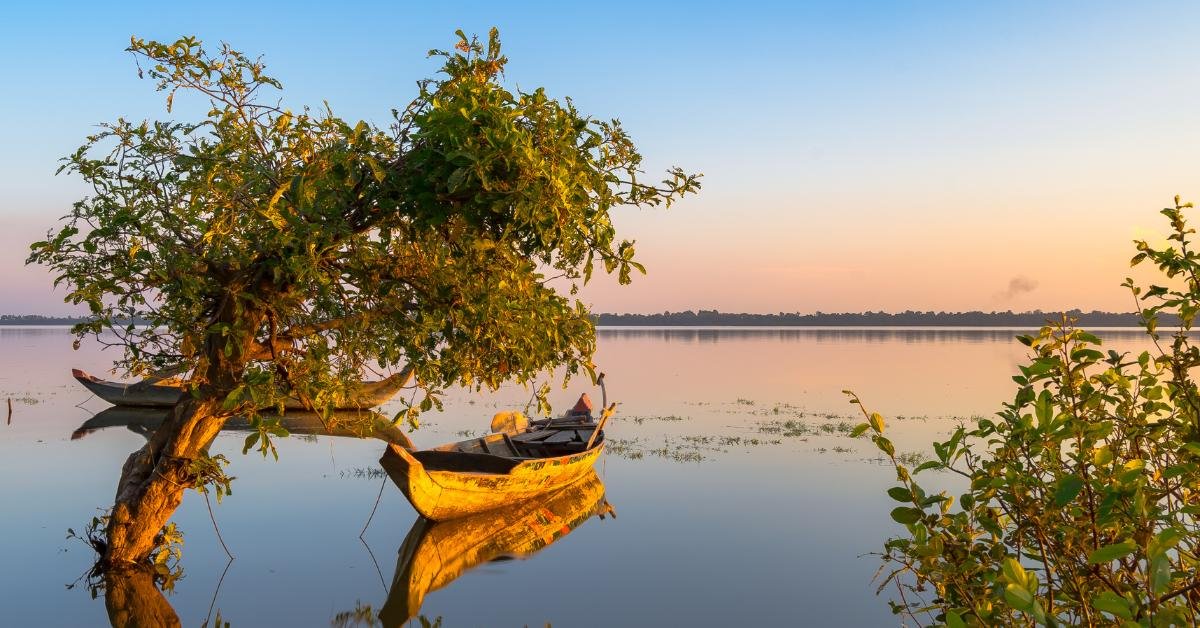 West Baray, or 'Baray Teuk Thla', is yet another Siem Reap attraction that is lesser known to most tourists. This gigantic water reservoir was built during the ancient Angkor era and is located to the west of Angkor Thom, around 12 km from Siem Reap centre. West Baray is a scenic spot, perfect for a cool down from a long day without the need for a ticket. It is a popular spot for the locals to go for a swim with their friends and families.
In the middle of the baray, you can find the West Mebon temple, which you can walk out to during the dry season or take a boat if you are visiting during the rainy season. Not only that, you can pay for a hammock, hire a rubber ring, or hire a bungalow next to the water's edge for an even more relaxing stay.
3.Enjoy Green Spaces at the Royal Gardens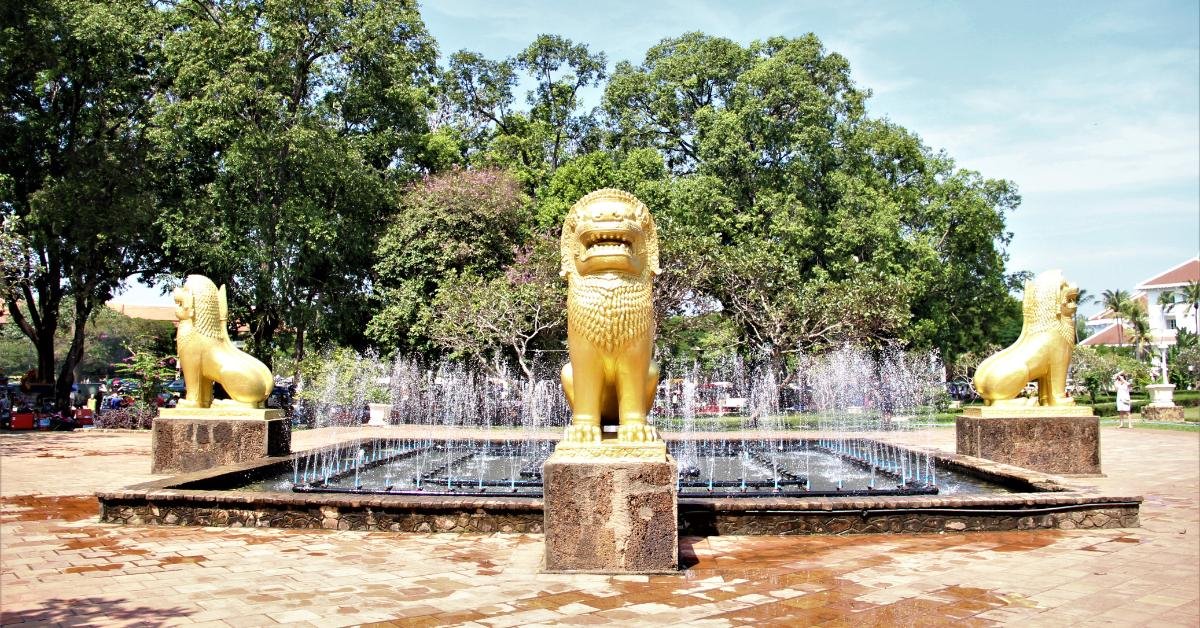 The Royal Crusade for Independence Gardens is a well-known Siem Reap attraction among both locals and visitors. Its history traces back to the 1950s when King Sihanouk and General Lon Nol strategically pursued Cambodia's independence from their French occupiers. Open for visits at any time and with no entrance fee; the Royal Gardens offer a variety of attractions across the area. These include a pagoda, shrines, a river, and the Royal Residence, creating an ideal spot for outdoor leisure with friends and family.
You might also come across the name 'Bat Park' in reference to the hundreds of fruit bats that inhabit the trees in the garden and are observable during dusk. As long as bats don't pose a concern for you, this free experience can be a delightful way to wrap up a lengthy day.
On a different note, you might encounter special events taking place here, such as captivating Apsara dancing performances or occasional art installations. It's a wonderfully inviting spot to spend time, particularly as the sun begins its descent and the afternoon heat gradually fades away.
4. Go on a Cycling Tour Around the City
Cycling is an eco-friendly and budget-friendly way to explore the area around the town, as well as a means to visit various attractions. Siem Reap features many exciting bike trails that would take you through the lush jungle, the Angkor Complex, and the local town.
Exploring Siem Reap by cycling introduces you to one of its most compelling aspects: the chance to interact with the friendly locals. Cambodians are known for their honesty and a deep-seated sense of politeness and respect. The rich tapestry of traditions, customs, beliefs, ways of life, and cultures within the country makes it a captivating destination to pedal through and learn about. Cycling also allows you greater access to connect with people as you traverse rural villages, allowing you to pause and engage with the surroundings at your leisure.
Discover 5 Hidden Gems: Top Siem Reap Attractions Beyond Angkor Wat
5.Kbal Spean: The Mystical Trek to the River of a Thousand Lingas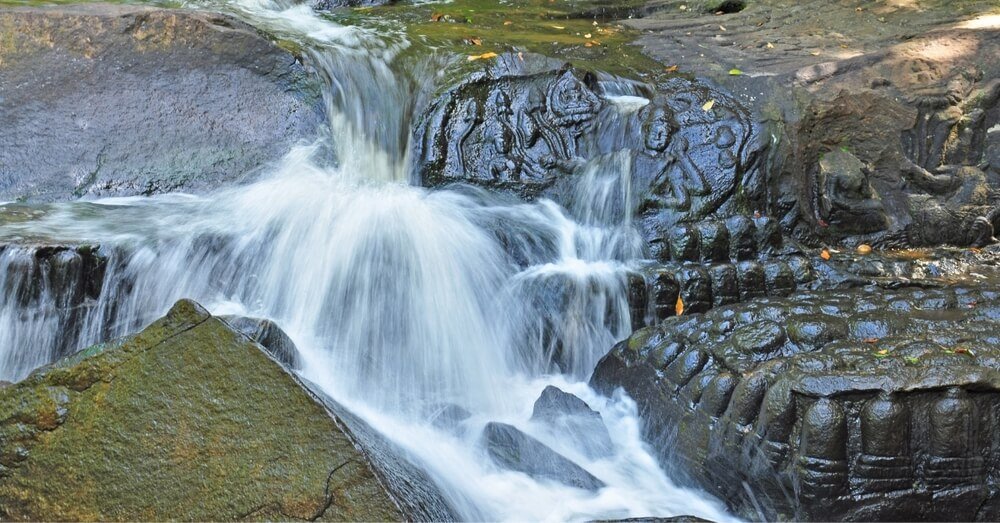 Kbal Spean, also known as 'the River of a Thousand Lingas,' is one of the Hidden Gems of Siem Reap Attractions. The trek to this mystical site takes you through a lush jungle, where the sound of water trickling through the rocks and chirping birds fills the air. It is a journey that will take you back in time, immersing you in the rich history and spirituality of the Khmer people.
Apart from the river and the lingas, the site is also home to a small waterfall, providing a tranquil oasis amidst the natural beauty of the jungle. Visitors can take a dip in the cool waters, surrounded by enchanting carvings and the lush greenery of the forest.
A trip to Kbal Spean is not just a trek through the jungle, but a spiritual and cultural journey back in time. It is an essential place to visit in Siem Reap province for those seeking adventure, history, and spirituality in Siem Reap.
6.Preah Khan: A Majestic Temple of Intrigue and Enigma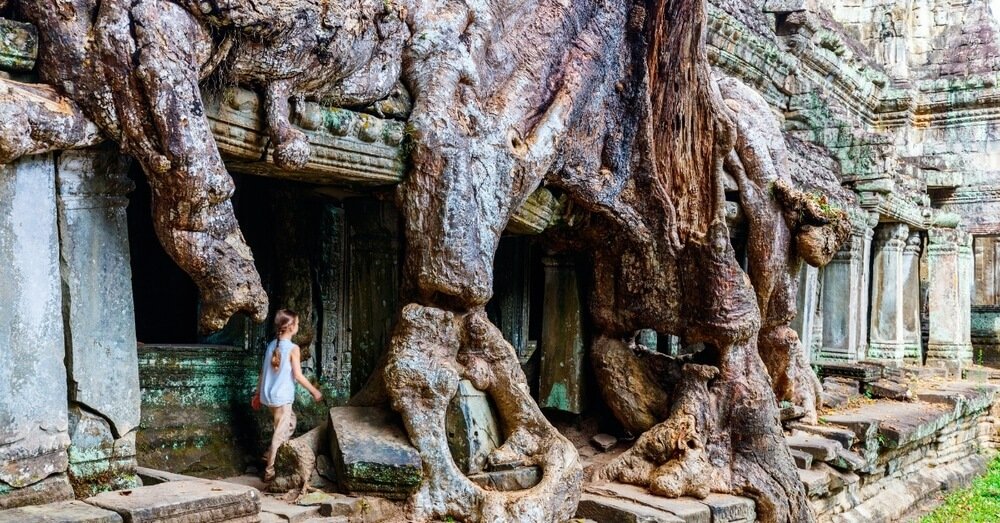 Preah Khan, a sprawling temple complex located just outside Siem Reap, is one of the most magnificent and memorable sites in Cambodia. Built in the 12th century during the reign of King Jayavarman VII, it was initially a Buddhist monastery and a centre of learning. The temple's intricate carvings and detailed sculptures offer a glimpse into the rich history and artistry of the Khmer Empire.
Preah Khan is not just a temple complex but a window into the past that provides a glimpse into the religious and cultural practices of the Khmer Empire. It is one of the must-visit attractions for tourists interested in history, architecture, and art, and a reminder of the enduring legacy of this ancient civilisation.
7.Koh Ker: A Journey to the Remote Ruins of an Ancient Kingdom
Koh Ker, located in the northeast of Siem Reap province, is a remote site of ancient ruins that will transport you back in time to the Khmer Empire of the 10th century. The site was the capital of the Khmer Empire for a brief period during the reign of King Jayavarman IV. Koh Ker is another of the top Siem Reap attractions for history enthusiasts and those seeking a unique and authentic travel experience.
Koh Ker is a mystical treasure that is off the beaten path and provides a glimpse into the lesser-known history and culture of Cambodia. The remote location and the serene atmosphere make it a perfect place to escape the crowds and immerse yourself in the ancient history of the Khmer Empire.
8.Banteay Srei: The Pink Jewel of Khmer Art and Architecture
Banteay Srei, also known as the 'Citadel of Women,' is a stunning temple complex located in Siem Reap province. Built during the 10th century, Banteay Srei is renowned for its intricate carvings and pink sandstone used in its construction. It is a masterpiece of Khmer art and architecture and one of the top things to do in Siem Reap for anyone interested in history, culture, and art.
The temple is a stunning example of the skill and craftsmanship of the Khmer people, with intricate carvings of deities, animals, and historical events covering every inch of its walls. In addition, the pink sandstone used in its construction gives it a unique and ethereal quality, with the stone seeming to glow in the light.
Banteay Srei is a reminder of the rich history and culture of Cambodia and a testament to the creativity and ingenuity of the Khmer people. It is a treasure trove of beauty and wonder that will leave visitors awe-inspired.
9.Beng Mealea: The Enigmatic Jungle Temple of Ancient Khmer Civilisation
Beng Mealea is a mysterious temple complex located in the jungles of Cambodia and is believed to have been built during the 12th century by King Suryavarman II, the same ruler who constructed the iconic Angkor Wat. Although not as well-known as its more famous counterpart, Beng Mealea is a significant part of the ancient Khmer civilisation, which flourished in the region from the 9th to the 15th century.
Beng Mealea's remote location and hidden status only add to its mystique, and it is no surprise that it has become a popular destination for adventurous travellers seeking to uncover the secrets of the ancient Khmer civilisation.
As you see, from the enigmatic temple of Beng Mealea to the stunning jungle trail of Kbal Spean, world-class destinations await in Siem Reap. The city has something for everyone. Still, there are numerous other attractions that you can visit during your time in the ancient city of Siem Reap. Whether you are looking for adventure, relaxation, or a bit of both, Siem Reap is the perfect destination. So why not discover the hidden Siem Reap attractions for yourself? With so much to see and do, you are sure to have an unforgettable experience.
10. Apsara Theatre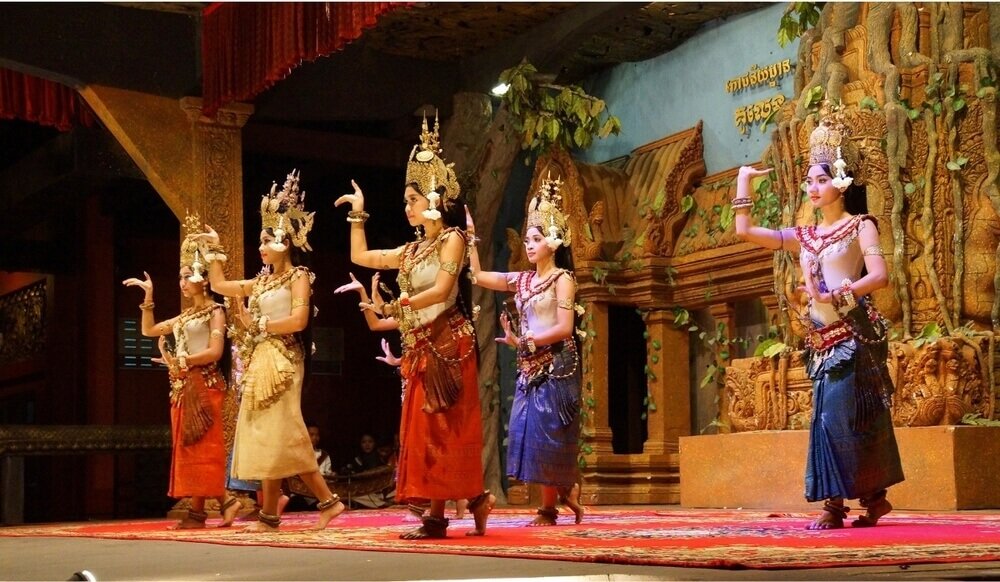 The Apsara Theatre is the oldest and most well-known venue for Apsara dance performances in Siem Reap. It is a cultural centre dedicated to preserving and promoting the traditional arts and culture of Cambodia, including Apsaras dance. Visitors can enjoy a stunning performance of Apsaras dance, accompanied by live music and a chorus, in a beautiful and authentic setting. The theatre also offers traditional music and dance workshops, allowing visitors to experience the culture of Cambodia firsthand. It is one of Places to visit in Siem Reap for anyone interested in the rich history and cultural heritage of Cambodia.
11. Banteay Chhmar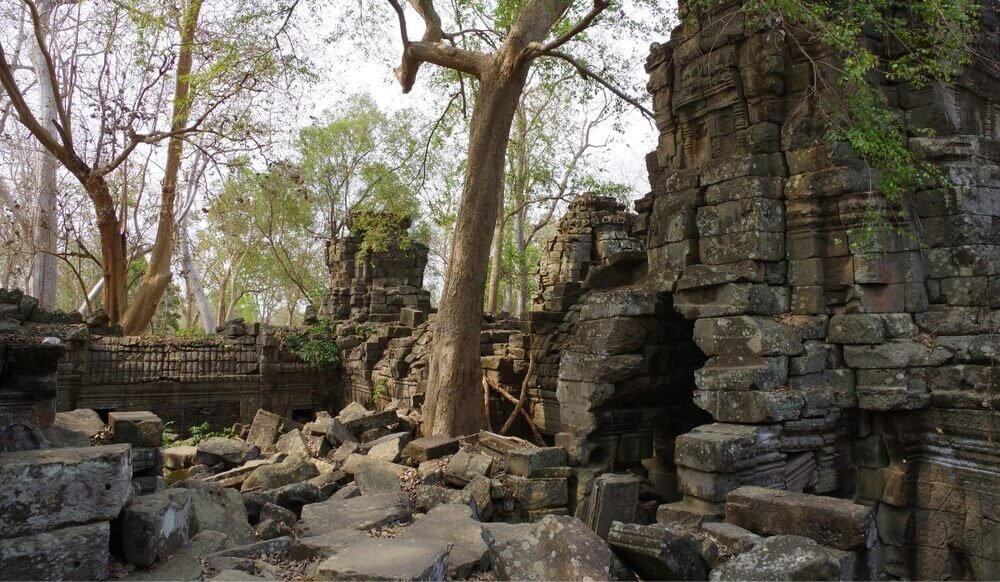 Banteay Chhmar is an archaeological site and temple complex located in northwestern Cambodia. It was built in the late 12th century during the reign of King Jayavarman VII. The temple is known for its well-preserved carvings and inscriptions, which depict scenes from Hindu mythology, as well as historical events and everyday life during the Angkor period. Banteay Chhmar is also notable for its large sandstone causeway, which was used to connect the main temple to the nearby city.
Despite being less well-known, Banteay Chhmar is considered a momentous cultural and historical site and is among the must-visit Siem Reap attractions for anyone interested in the rich heritage of the country.
12. Banteay Srey Butterfly Centre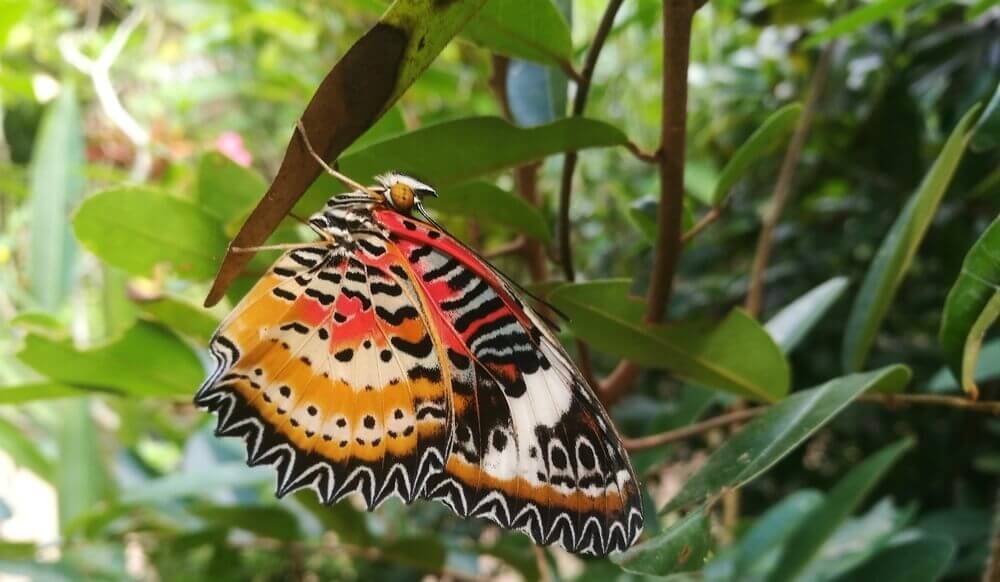 Situated about 25 km from Siem Reap, Banteay Srey Butterfly Centre is a conservation centre in Siem Reap dedicated to the preservation and protection of Cambodia's native butterfly species, as well as to educating visitors about the important role that butterflies play in the ecosystem. The centre houses a large collection of live butterflies, which visitors can observe and learn about in a natural and interactive setting. In addition to the exhibit, the centre also offers guided tours, workshops, and educational programs, allowing visitors to gain a deeper understanding of the biology, behaviour, and conservation of butterflies.
Banteay Srey Butterfly Centre is a unique and educational destination that offers various things to do in Siem Reap for those interested in nature's creatures and environmental education.
13. Cambodia Cultural Village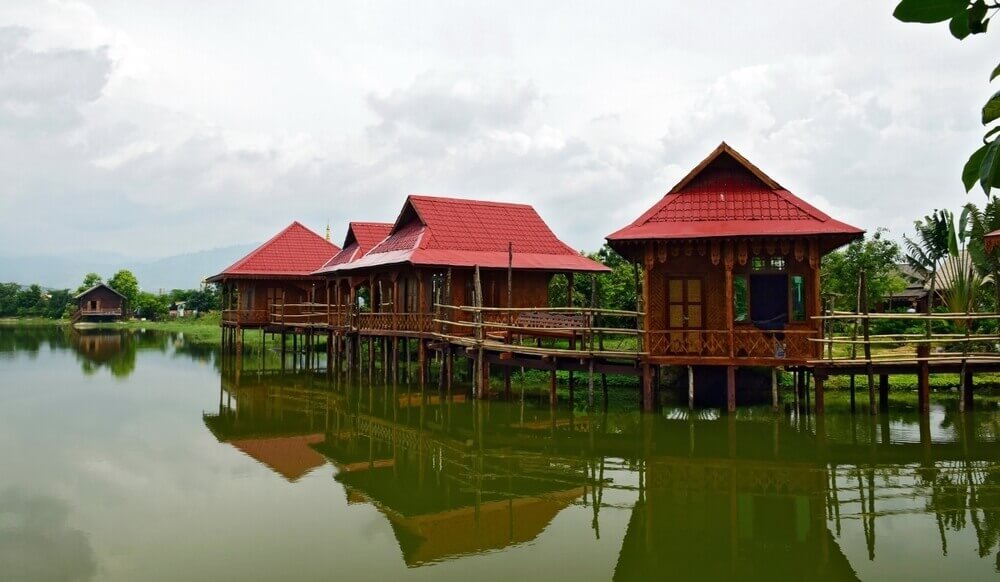 Cambodia Cultural Village is a cultural theme park located in that offers a unique take on the rich and diverse culture of Cambodia through a series of interactive exhibits, performances, and activities. The park features replicas of traditional Cambodian homes, as well as exhibits showcasing the country's art, music, dance, and history. Here, you can also enjoy traditional dance and music performances, try on traditional clothing and participate in traditional hands-on activities.
The park originally opened to the public in late 2003. Now, it is home to more than 10 villages that showcase the diverse cultures and characteristics of 19 Cambodian races. It is a fun and educational destination, offering a comprehensive and immersive introduction to the culture of Cambodia.
14. Phnom Kulen National Park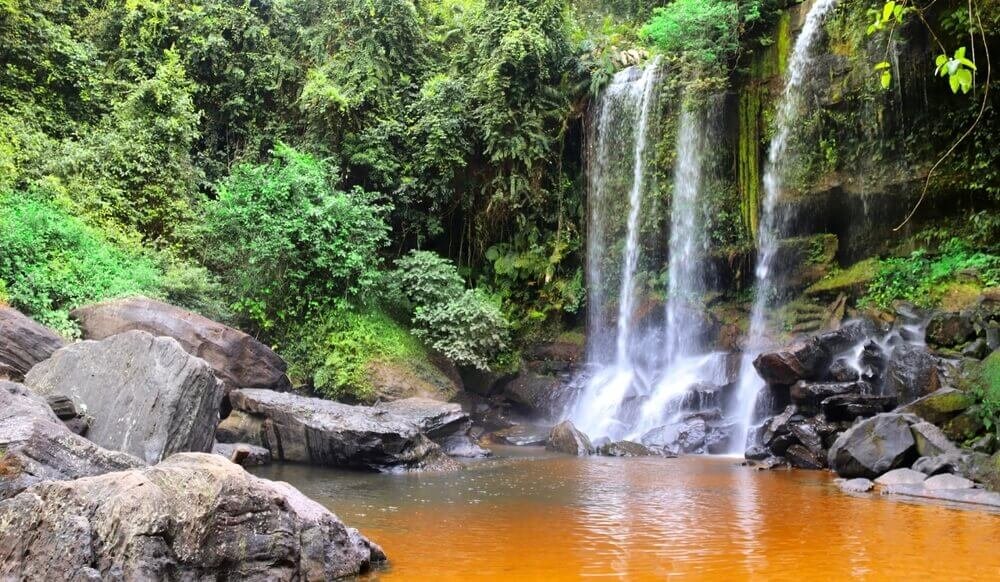 Phnom Kulen National Park is positioned approximately 45 km north of Siem Reap centre, it is considered one of the significant cultural and natural sites in Cambodia. It hosts a range of scenic landscapes, historical sites, and cultural landmarks. Visitors can explore the park on foot, by bike, or by car, taking in the breathtaking views, crystal-clear streams, and lush vegetation. Phnom Kulen National Park is also a popular destination for outdoor activities, such as trekking, picnicking, and bird-watching. All in all, it offers a unique and memorable experience for visitors.
15. Phimeanakas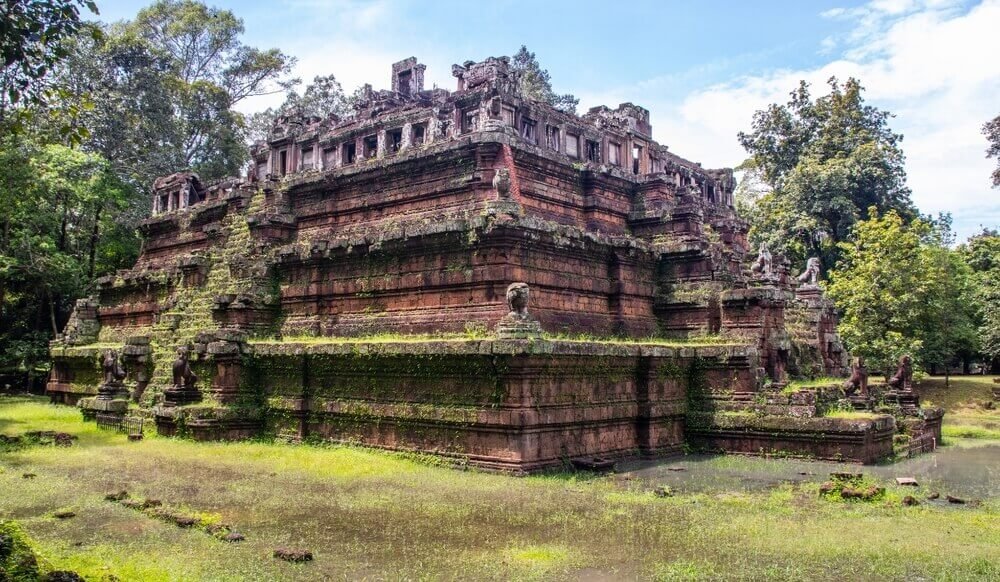 A Hindu-style temple located within the Angkor Thom and is the tallest climbable temple in the complex. Its history dates back to the 10th century and was built during the reign of King Rajendravarman. The temple is known for its central tower, which is surrounded by four smaller towers and a moat. It was used as a royal palace and was later converted into a temple. Phimeanakas is considered one of the most important temples within Angkor Thom, and its architectural style is unique, reflecting a blend of Hindu and Khmer design elements.
From the top, it offers a breathtaking view of the surrounding area, which is enough to say that it is one of the places to visit in Siem Reap you should not overlook.
16. Pub Street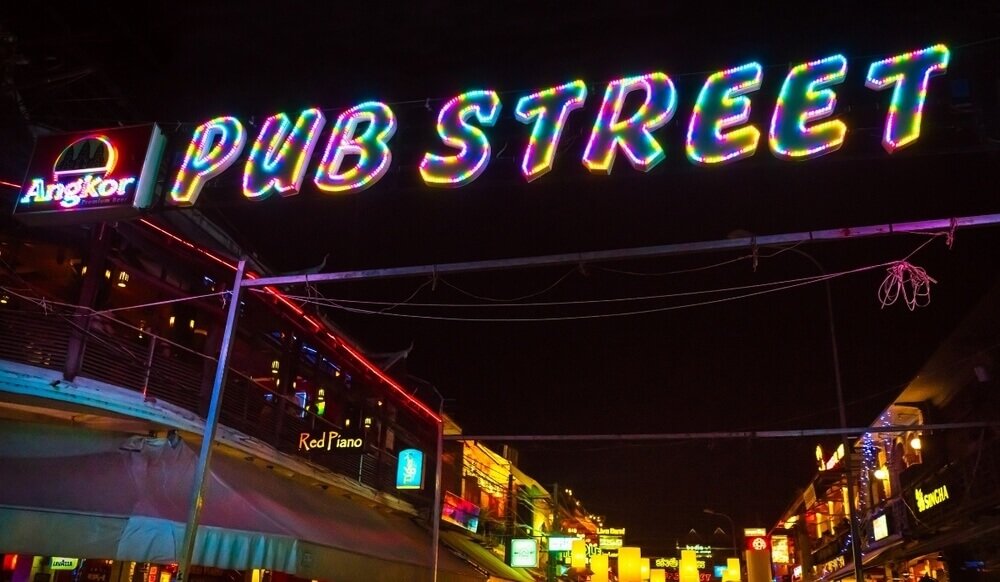 If you are looking for nightlife or vibrant fun, Pub Street Siem Reap is the perfect place for you. The street is lined with bars, restaurants, and shops selling a wide range of goods, including souvenirs, clothing, and local handicrafts. Visitors can enjoy live music, drink local and international beers, and try traditional Khmer dishes. Pub Street is also home to several spas and massage centres, offering a range of treatments and services to help visitors relax and rejuvenate. With its vibrant atmosphere and wide range of attractions, Pub Street is the place to visit in Siem Reap for anyone looking to experience the nightlife under the atmosphere of Cambodian culture.
But if these 12 Siem Reap Attractions are not enough for your next holidays, you can explore more about Places to visits in Siem Reap and Underrated Places to Visit in Siem Reap for making your trip unforgettable.
After a long day of finishing your Things to do in Siem Reap lists and visiting unforgettable Siem Reap Attractions choosing the right hotel to unwind is a must. Our hotel, Park Hyatt Siem Reap, is a 5-star hotel in Siem Reap located the central Siem Reap, next to Angkor Archaeological Park.
Park Hyatt Siem Reap | The Perfect Hotel for your Siem Reap Trip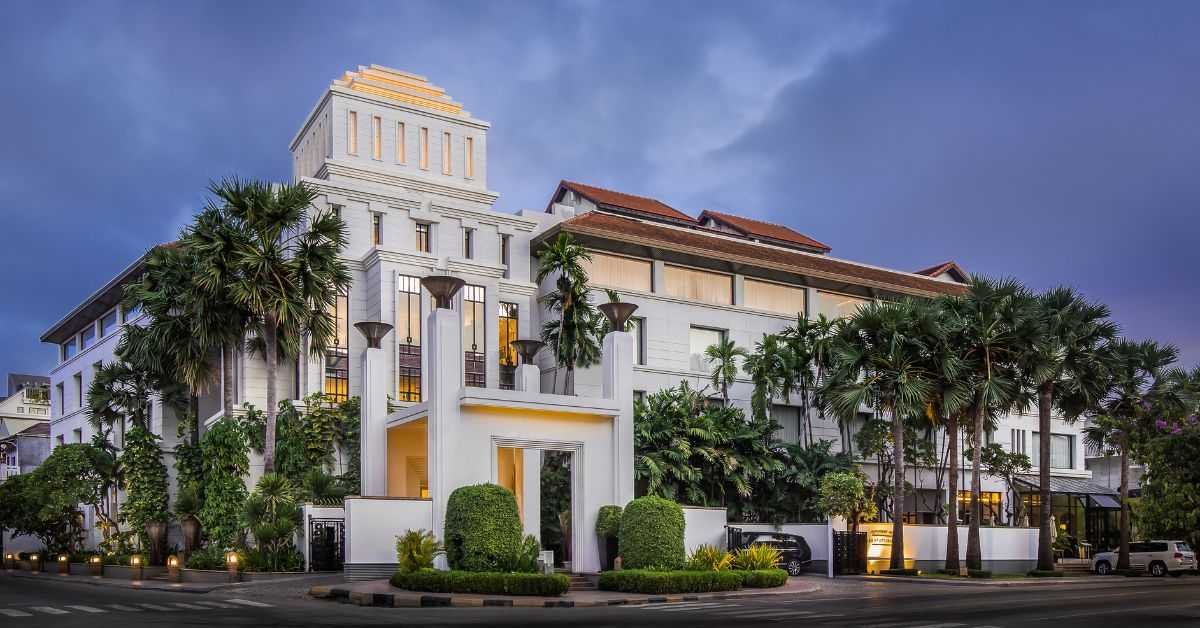 Park Hyatt Siem Reap is a 5-star hotel in Siem Reap, situated only steps away from the Angkor Archaeological Park. It is also within walking distance from the central market, restaurants, and various top Siem Reap attractions.
The hotel's 104 rooms come complete with polished decorations and are set in a Khmer-influenced Art style decoration. The rooms are filled with modern amenities, surrounded by rich facilities, including a spa, a swimming pool, and a fitness centre with top-tier gym equipment. Indulge in the best offers, accommodations, and things to do only at our 5-stars hotel in Siem Reap.
Explore things to do and experiences at Park Hyatt Siem Reap here
See our rooms and suites here
Visit our website or contact us today to find out more.
Tel: +855 6321 1234
Fax: +855 6396 6001
Email: siemreap.park@hyatt.com