Siem Reap is rapidly gaining recognition as one of Asia's most affordable destinations. With a multitude of places to explore, things to do, delicious foods to savour, and souvenirs to purchase, many prioritise fun over budget-saving. Nevertheless, taking a moment to save a bit of money while getting the most out of Siem Reap attractions can be a wise approach.
Here is our guide to budget-friendly activities and free things to do in Siem Reap to help those who wish to explore the magic of this ancient city without breaking the bank.
1. Watching the Sunset at Angkor Wat Temple
Angkor Wat Temples is the prime Siem Reap attraction and is one of the UNESCO World Heritage sites that is a must-visit when you are in the city. The beauty of this temple does not only lies in its architecture but also in the serenity of the sunset. You can enter the Angkor Archaeological Park premise without having to purchase a ticket to watch the romantic sunset in the evening.
Some of the recommended spots include:
South Gate of Angkor Thom
The eastern side of Saras Srong
Pre Rup
However, keep in mind that access to the temples themselves requires a ticket, and after 5:30 p.m., attractions like Angkor Wat, Bayon, and Ta Prohm are closed. While you won't be able to enter the temple areas, you can still enjoy the sunset with the captivating backdrop of Angkor Wat's architectural wonders, creating an unforgettable moment.
2. Tour the Local Markets
Despite being on a budget, the bustling market scene is a place to visit in Siem Reap and is a strongly recommended experience for all travellers. The local markets offer a chance to immerse yourself in the hustle and bustle of the local crowd, observing and navigating the excitement as they carry out their routine shopping.
The most prominent market is the 'Psar Chas,' also known as Siem Reap Old Market. It presents an array of distinctive shopping opportunities at friendly prices, including traditional Khmer food, silk, textiles, spices, jewellery, and traditional crafts. Furthermore, you can venture to 'Phsar Leu,' or the Upper Market, the largest and most captivating of Siem Reap's markets, yet with fewer tourists. Not to mention the Angkor Night Market, Siem Reap's most renowned shopping venue, housing over 200 vendors selling a wide range of clothing and handicrafts by the locals.
3. Unwind at West Baray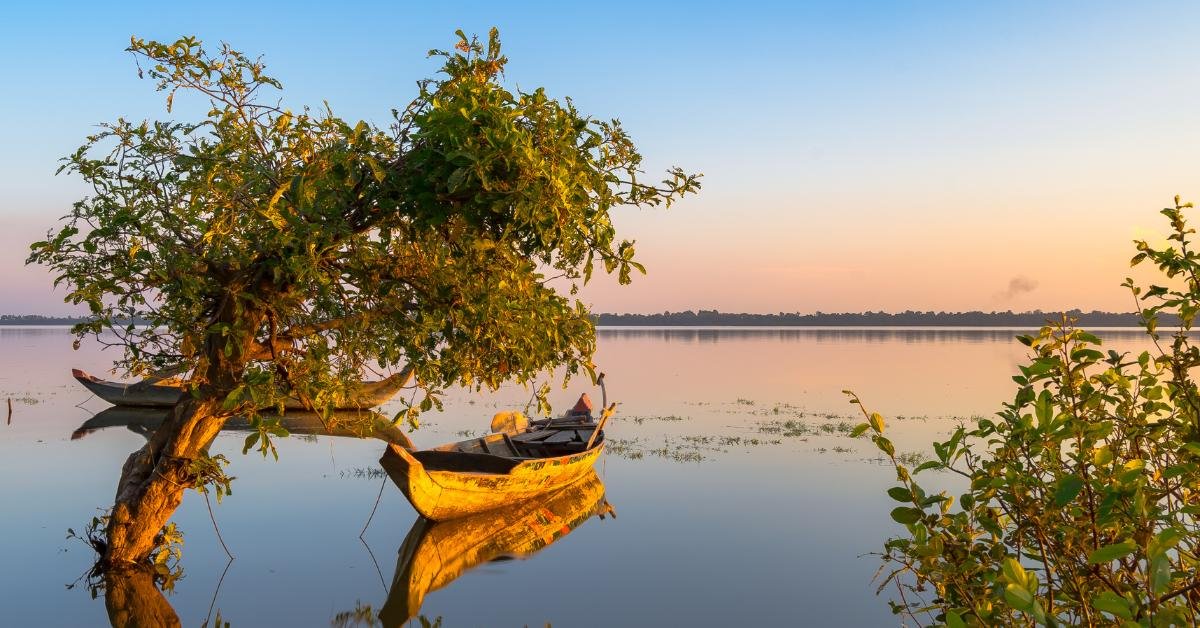 West Baray, or 'Baray Teuk Thla', is yet another Siem Reap attraction that is lesser known to most tourists. This gigantic water reservoir was built during the ancient Angkor era and is located to the west of Angkor Thom, around 12 km from Siem Reap centre. West Baray is a scenic spot, perfect for a cool down from a long day without the need for a ticket. It is a popular spot for the locals to go for a swim with their friends and families.
In the middle of the baray, you can find the West Mebon temple, which you can walk out to during the dry season or take a boat if you are visiting during the rainy season. Not only that, you can pay for a hammock, hire a rubber ring, or hire a bungalow next to the water's edge for an even more relaxing stay.
4. Enjoy Green Spaces at the Royal Gardens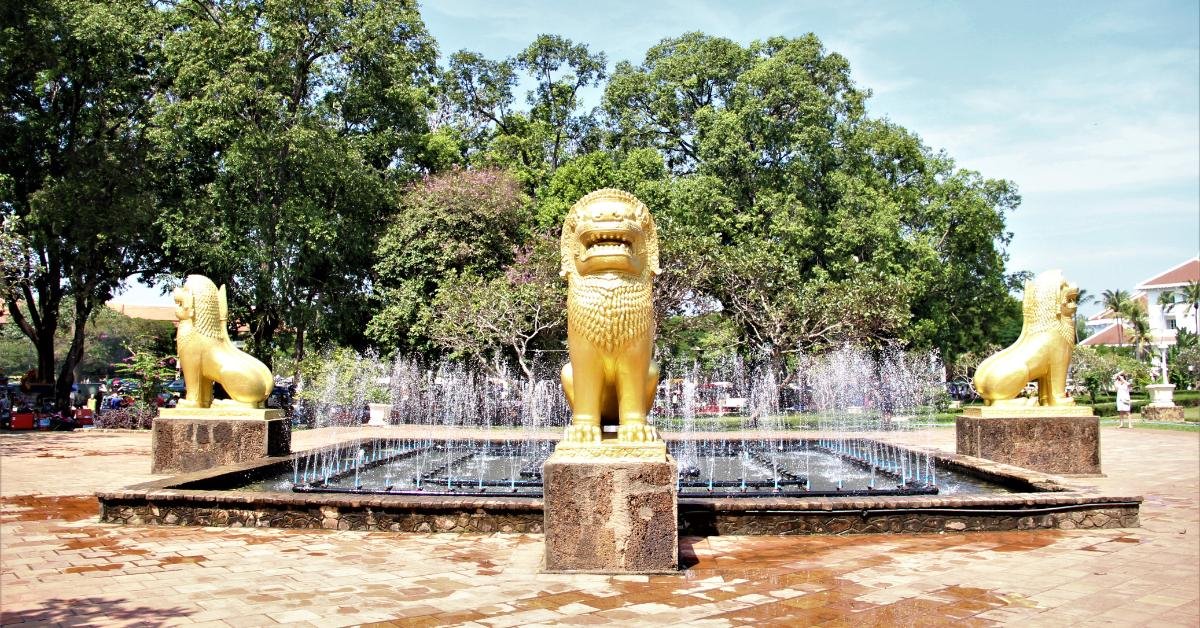 The Royal Crusade for Independence Gardens is a well-known Siem Reap attraction among both locals and visitors. Its history traces back to the 1950s when King Sihanouk and General Lon Nol strategically pursued Cambodia's independence from their French occupiers. Open for visits at any time and with no entrance fee; the Royal Gardens offer a variety of attractions across the area. These include a pagoda, shrines, a river, and the Royal Residence, creating an ideal spot for outdoor leisure with friends and family.
You might also come across the name 'Bat Park' in reference to the hundreds of fruit bats that inhabit the trees in the garden and are observable during dusk. As long as bats don't pose a concern for you, this free experience can be a delightful way to wrap up a lengthy day.
On a different note, you might encounter special events taking place here, such as captivating Apsara dancing performances or occasional art installations. It's a wonderfully inviting spot to spend time, particularly as the sun begins its descent and the afternoon heat gradually fades away.
5. Go on a Cycling Tour Around the City
Cycling is an eco-friendly and budget-friendly way to explore the area around the town, as well as a means to visit various attractions. Siem Reap features many exciting bike trails that would take you through the lush jungle, the Angkor Complex, and the local town.
Exploring Siem Reap by cycling introduces you to one of its most compelling aspects: the chance to interact with the friendly locals. Cambodians are known for their honesty and a deep-seated sense of politeness and respect. The rich tapestry of traditions, customs, beliefs, ways of life, and cultures within the country makes it a captivating destination to pedal through and learn about. Cycling also allows you greater access to connect with people as you traverse rural villages, allowing you to pause and engage with the surroundings at your leisure.
That concludes our list of budget-friendly activities and free things to do in Siem Reap, which can definitely elevate your holiday experience.
Despite a budget-friendly holiday, when it comes to lodging, a 5-star hotel in Siem Reap is the obvious choice for the most relaxing stay.
Park Hyatt Siem Reap | The Perfect 5-Star Hotel
After a long day of visiting Siem Reap attractions, choosing the right hotel to unwind is a must. Our hotel, Park Hyatt Siem Reap, is a 5-star hotel in Siem Reap located the central Siem Reap, next to Angkor Archaeological Park.
The hotel's 104 rooms come complete with polished decorations and are set in a Khmer-influenced Art style decoration. The rooms are filled with modern amenities, surrounded by rich facilities, including a spa, a swimming pool, and a fitness centre with top-tier gym equipment. Indulge in the best offers, accommodations, and things to do only at our 5-stars hotel in Siem Reap.
See our rooms and suites here
Visit our website or contact us today to find out more.
Tel: +855 6321 1234
Fax: +855 6396 6001
Email: siemreap.park@hyatt.com