For many years, Cambodia's reputation drew only the most daring tourists. But all of that is changing, as the beautiful country is quickly becoming a popular Southeast Asian travel destination. These days, if you are looking for a 5-star hotel in Siem Reap, you are somewhat spoilt for choice.
Before discussing the best hotels in Siem Reap, let's learn more about the city itself.
The Ancient City of Siem Reap
Siem Reap, Cambodia, is best known as the location of the Angkor Wat temple complex. The area was the capital and central city of the Khmer empire approximately 1,000 years ago. It is now more convenient than ever to travel to Cambodia, even though there are no direct flights to Cambodia from Europe, North America, Australasia, or South Africa, the connections have certainly become easier with direct flights from Hong Kong and other Asian hubs.
Most travel descriptions in Siem Reap start off with words like 'scenic,' 'unforgettable,' and 'authentic.' All of this is true, as there is an undeniable magic to this charming and alluring part of Cambodia. A large portion of Cambodia's unique appeal stems from its capital, Phnom Penh, as well as some of the world's best street food and low-key tropical islands. Yet it is without a doubt that the country's main attraction is Angkor Wat, a UNESCO World Heritage Site that is unparalleled in magnitude and splendour in Asia.
Now, contemporary Siem Reap has delightful neighbourhoods and some of the finest hotels in Cambodia. The city centre has been completely renovated, and it looks fantastic. It has managed, however, to preserve its relaxed atmosphere. Furthermore, new walkways and roads connect the neighbourhoods of Siem Reap. All over the city, there are delectable restaurants and quaint coffee shops. As a result, there are far more options for travellers in Siem Reap than in the past.
Modern-Day Cambodia
Beyond Angkor Wat, travellers can make the most of modern Cambodia by staying at one of the best hotels in Siem Reap. Previously used as a rest stop for tired legs while discovering the temples of Angkor Wat, Siem Reap has grown into a destination in its own right. Despite the city's lack of immediate tourist hotspots, there is plenty to do, see, and explore. On top of that, annual film and photography cultural events are held in the town, which is also the hub of Cambodia's most prominent contemporary circus.
In Cambodia today, there are numerous ways to spend your dollars, which is the most commonly accepted currency, with first-rate shopping and cuisines to suit all tastes and preferences. The city has a fine selection of accommodations, ranging from high-end, tasteful spa hotels to more budget-friendly options. With traditional houses built on stilts, luxury accommodations, eco-chic resorts, and social collectives. Whether you are looking for a luxury hotel in Siem Reap or something specific, there are options available for every type of traveller.
Diverse Travel Experience
Siem Reap is Cambodia's second-largest city, and it is considered the epicentre of Cambodian culture due to its ethnic villages, historical sites, and, of course, the country's most popular tourist attraction: Angkor Wat. Moreover, to emphasize, Angkor Wat is not a suitable quick and easy layover attraction. A week should be given to give time to fully experience a combination choice of Siem Reap, Angkor Wat, and nearby areas.
The Siem Reap River cuts through the city, making it relatively compact. The majority of accommodations are in the Old French Quarter, which encompasses neighbourhoods such as Temple Town, City Centre, and the Pub Street district, while the Wat Bo neighbourhood is just across the river from the Old French Quarter.
5-Star Hotel in Siem Reap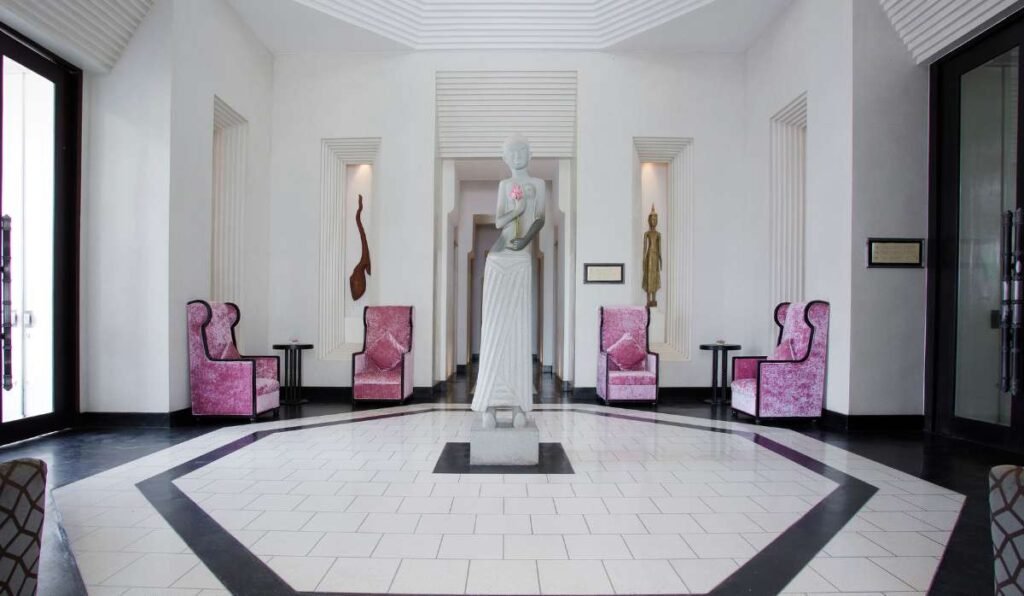 Siem Reap has some of the best selections of 5-star hotels in Southeast Asia. Cambodia represents a highly comfortable travel experience for those looking to stay at a 5-star hotel in Siem Reap. Well-known figures such as Angelina Jolie, Mark Zuckerberg, David Beckham, Michele Obama, and Beyonce are just some of the famous people who are evidence of this reality.
As the area is protected, there are no hotels within the Angkor temple complex, and this is likely to remain. In Siem Reap, the best place to stay is as close to the temples as possible.
Fortunately, our 5-star hotel in Siem Reap – Park Hyatt Siem Reap is situated in an ideal location for visiting the temples. The journey from Siem Reap to Angkor typically takes between 10-15 minutes. Indulge yourself even more with a unique experience, such as an authentic spa experience, sunrise yoga, or a romantic candlelit evening meal.
With travel coming back, Siem Reap, Cambodia, will continue to be a popular tourist destination in the coming years, now is the perfect time to travel to this majestic destination and reserve your luxury hotel in Siem Reap before the rooms are booked.
Park Hyatt Siem Reap
Park Hyatt Siem Reap award-winning hotel is magnificently stationed in the heart of Siem Reap. Since 1957, our hotel has been transformed from a prominent heritage landmark into an ageless architectural jewel. We offer a unique Cambodian experience, making your getaway unforgettable. Apart from the luxurious rooms, our amenities include a bespoke spa journey, a tranquil swimming pool, a fitness centre surrounded by lush greenery, and more experiences both inside and outside the hotel for you to enjoy to the fullest.
See our rooms and suites click here
Visit our website or contact us today to find out more.
Tel: +855 6321 1234
Fax: +855 6396 6001Email: siemreap.park@hyatt.com